We Energize Students On How to Study.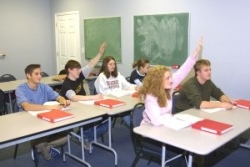 Good study skills are each student's key to academic success! Once we examine a student's study characteristics to determine strengths and weaknesses, our work can begin to teach the most effective and efficient means of study!
Because Total Learning Concepts recognizes the importance of good study habits and attitudes, we conduct motivational study skill courses for each grade level in school; such as, Elementary Study Strategies, Skills for School Success, Winning in Math, and College Study Strategies. These course are designed to motivate students and teach them how to study smarter!
Each of our study skills courses enables students to maximize their academic potential and to take control of their course work.
"Elementary Study Strategies" and "Skills for School Success"
Both are 12 hour courses
(If a class is held on another school campus, a $25 travel fee is applicable)
New Classes form each month
"Winning in Math"
4 hour workshop
New Classes form each month
"College Study Strategies"
8 hour course
New classes form each month