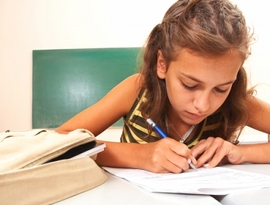 For newly enrolled students it is often necessary for Total Learning Concepts to assess their academic skills so that we can have accurate, up-to-date and comprehensive information about their abilities. Through performance based and nationally normed diagnostics, rather than multiple choice testing, we are able to determine an individual's grade and age level of performance in all areas of reading, writing and mathematics. We also administer placement tests to determine gaps in the student's school course foundation. In addition to achievement testing and placement tests, we sometimes find it necessary to administer cognitive skill diagnostics to understand more fully the learning style and aptitude of the individual. When diagnostics such as these are performed, decisions concerning tutoring sessions may be made based on reliable information. The necessary academic steps to take become clearer.
When school age students enroll into one of our learning programs, we also evaluate standardized test results from the school they attend to learn about the student's academic history. Additionally, we administer study skills surveys to determine a student's current study habits and attitudes.
We are able to administer kindergarten readiness, school readiness and developmental age testing to young students. These diagnostics assist in determining if grade or school placement is appropriate.
Achievement, Cognitive, Course Placement, & Study Skills Assessments Available
Achievement Abilities assessment
Cognitive Abilities assessment
Kindergarten Readiness Test
Developmental assessments
Standardized Test full-length practice test
Course placement tests
Testing Scheduled on an Individual Basis / In-Person Consultation Required
Please call 770-381-5958 to schedule diagnostic testing.